Dryview Film Paper Printer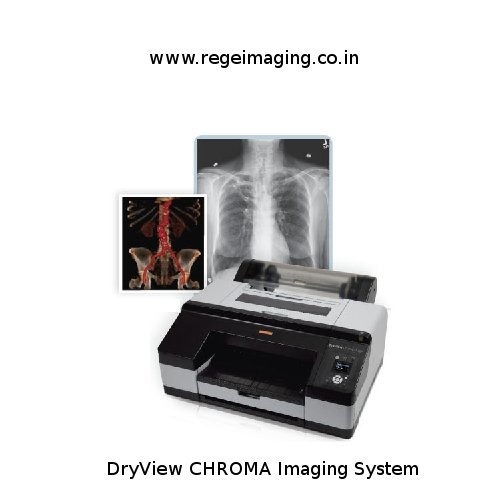 Dryview Film Paper Printer
Price And Quantity
Product Specifications
DRX SYSTEM

USED FOR RADIOGRAPHY
Product Description
Dryview Film Paper Printer

The most trusted name in medical printing now offers a highly versatile printer that empowers physicians and other healthcare professionals in entirely new ways.

The Care stream Dry view Chroma Imaging System delivers diagnostic images on film and referral prints on paper in high-quality grayscale or brilliant full color. Minimize operating costs by combining film or paper printing into one system - and provide quality output anywhere it's needed.
Powerful printer. Trusted name.
The Dryview Film Paper Printer is ideal for radiologists, physicians, dentists, or anyone who relies on information for patient care. Low operating costs, easy operation and great versatility make it a perfect fit for a wide range of applications. Best of all, you get two trusted names - Carestream and Dryview. So, you can buy with confidence and know that your imager is backed by a heritage of quality, value and responsive worldwide support. Simplicity and affordability make this new tabletop imager perfect for a wide range of applications.
Paper or film. Color or grayscale.
Multiple Applications
Radiology applications:
PACS, CR, DR, CT, MR, PETICT, Ultrasound, Nuclear Medicine and Radiation Therapy.
Speciality Applications

The Dryview Chroma lmager provides paper reporting for referrals and patient consult to support a wide range of specialty applications, including:

Dermatology
Neurology
Obstetrics & Gynecology
Oncology
Orthopedics
Pathology
Radiology
Rheu matology
Surgery
Urology
Referral printing- create high-quality paper
For physicians
To accompany reports.
Radiology departments can use this imager to provide referring physicians with powerful new consultative tools. Send images on your media of choice paper or film - easier than ever
Convenient, affordable printing
The Dryview Chroma Imager is perfect for radiology departments, hospitals, private practices, medical imaging centers and clinics, whether you use film or monitors for diagnoses. Simplicity and affordability make this new tabletop Imager perfect for a wide range of applications.
A productive and reliable solution
The DRYVIEW Chroma Imager prints up to 50 paper sheets per hour - with superb color or grayscale images. A tabletop design makes it easy to locate the imager anywhere paper or film output is needed.
Ideal for printing from PACS or EMRs
Low operating costs and versatility make the DRYVIEW Chroma Imager a seamless solution for printing images from PACS or image-enabled Electronic Medical Records (EMRs) on paper or film. As Health Information Exchanges (HIE) enable health information to be electronically shared within a country, region or hospital system, your medical image printing requirements are changing. The DRYVIEW Chroma lmager - with its low operating costs and superior print quality - is a perfect fit for your changing requirements.
Broad connectivity
The DRYVIEW Chroma imager is compatible with CR, DR, CT, MR, PACS system and EMR systems, as well as a variety of other modalities. This allows the system to provide quality films and paper prints virtually anywhere they are needed.
Easy to install
With simple installation and intuitive system operation, minimal operator training is required. Easy operation also ensures that you can deploy the system without interrupting your daily workflow for long periods of time.
Simplified service
The reliablility of the DRYVIEW Chroma lmager greatly streamlines operation and minimizes service requirements. Optional Remote Management Services (RMS) alerts Carestream service professionals when the system needs attention.
An environmentally and economically sound choice
The DRWIEW Chroma imager is ENERGY STAR compliant as designated by the U.S. Environmental Protection Agency (EPA). The energy efficient design of the imager minimizes energy costs and reduces total cost of ownership.