Iopromide Injection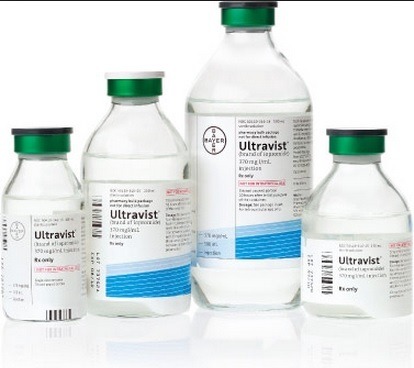 Iopromide Injection
Product Description
Iopromide Injection
The presence of LOCM such as Uttravist in the blood stream encourages lowering of blood\viscosity v ia osmodilution. LOCM passes in to glomerular filtrate. Residual hyperosmolality of filtrate increases osmotic pressure of tubular fluid and reduces water reabsorption. More water is retained in tubules, d iluting and further lowering viscosity of tubular fluid (osmodiuresis-). Preserved GFR and fluid flow through tubules and renal blood vessels.
Key Traits

Pyrogen-Free aqueous solution
Helps diagnose problems with brain, heart, and blood vessels
Nonionic sterile, clear, colorless to slightly yellow
No preservatives
Preclinical evidence
Unlike IOCM, LOCM such as Ultravist encourages dilution of blood and urine, lowering in vivo viscosity and preserving renal hemodynamics.
Clinical evidence
Osmodilution and osmodiuresis has seen in patients receiving Ultravist': Marked (~20%) decrease in blood viscosity measure in 10 patients undergoingDSA with Ultravist' 370.
Double-blind, randomized trial data illustrate increased renal dilution of CM in patients receiving
Ultravist compared to those receiving IOCM iodixanol. Lopromide Injection
IOCM iodixanol ( ~290 mosm/kgH2O)
IOCM iodixanol is iso-osmola to blood.
Dilution of blood and urine is not encouraged
Viscosity of blood and urine is increased
Renal hemodynamics become impaired
Viscosity,Osmodiuresis,Kidney Retention, and Renal Damage:
Preclinical and Clinical Evidence
Ultravist causes less of an increase in urine viscosity compared to IOCM and may therefore better preserve urine flow
Clinical data
In humans undergoing cardiac intervention, compared to IOCM iodixanol, LOCM Ultravist
Causes significantly
Less of an increase in urine viscosity
Less of a decrease in urine production