Sodium Meglumine Diatrizoate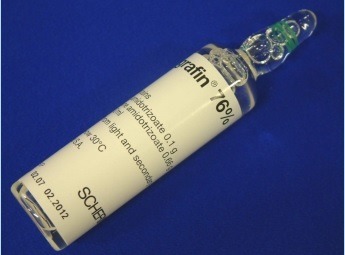 Sodium Meglumine Diatrizoate
Product Description
We are engaged in offering premium Sodium Meglumine Diatrizoate that is used for angiography and urography. Offered product in processed under the guidance of skilled professionals, making optimum utilization of high grade tools and technology. This product matches the international quality standards in terms of quality and flawlessness. Offered product is precisely tested for quality through set parameters of industry to avail best outcome to patrons. Moreover, Sodium Meglumine Diatrizoate is available in temper proof packing for safe and convenient transit.
1ml Urografin 60% contains
Diatrizoic Acid USP. 471.78 mg
Meglumine USP. 125.46 mg
(Total Iodine content is 20ml content 5.84 g)
1ml Urografin 76% contains
Diatrizoic acid USP. 597.30 mg
Meglumine USP. 159.24 mg
(Total Iodine content in 20ml content 7.40g. 50Ml content 18.50g, 100ml content 37g in Aqueous solution)
lntravenous and retrograde urography.
Also for all angiographic examinations as well as for amniography, arthrography, intraoperative cholangiography, fistulography, hysterosalpingography, splenoportography, vesiculography and others.
Urografin is not to be used for myelography, ventricuiography or cisternography, since it is likely to provoke neurotoxic symptoms in these examinations.
Contraindications
Manifest hyperthyrodism, decompensate cardiac insufficiency.
Hysterosalpingography must not be performed during pregnancy or in the presence of acute inflammatory processes in the pelvic cavity.
Please note
The contrast medium solution should not be drawn into the syringe or the infusion bottle until immediately before the examination. Vials containing contrast medium solutions are not intended for the withdrawal of multiple doses. The rubber stopper should never be pierced more than once. the use of cannulas with a long tip and a diameter of maximally 18G is recommended for piercing the stopper and drawing up the contrast medium (dedicated withdrawal cannulas with a side hole e.g. Nocore-Admix cannulas, are particularly suitable).
Contrast medium not used in one examination session must be discarded. The need for examination merits particularly careful consideration in hypersensitivity to iodinated contrast media, severe impairment of hepatic or renal function, cardiac and circulatory insufficiency, pulmonary emphysema, poor general health, cerebral spasmodic conditions, latent hyperthyroidism, bland nodular goitre and multiple myeloma.
Fluid intake should not be restricted before the use of hypertonic contrast media in patients with multiple myeloma, diabetes melliast media in patients with multiple miguria or gout and in babies, young children and patients in a very poor general state of health.
Premedication with alpha-receptor blockers is recommended in phaeochromocytoma patients because of the risk of blood pressure crises. Following the administration of iodinated renal contrast media, the capacity of the thyroid tissue to take up radioisotopes for diagnosing disorders of the thyroid/in reduced for up to 2 weeks, and even longer in individual cases.
The package insert and the scientific brochure should be consulted for side effects, administration during pregnancy and in patients with allergic disposition, special notes as well as suggestions for the treatment of contrast medium incidents, etc.