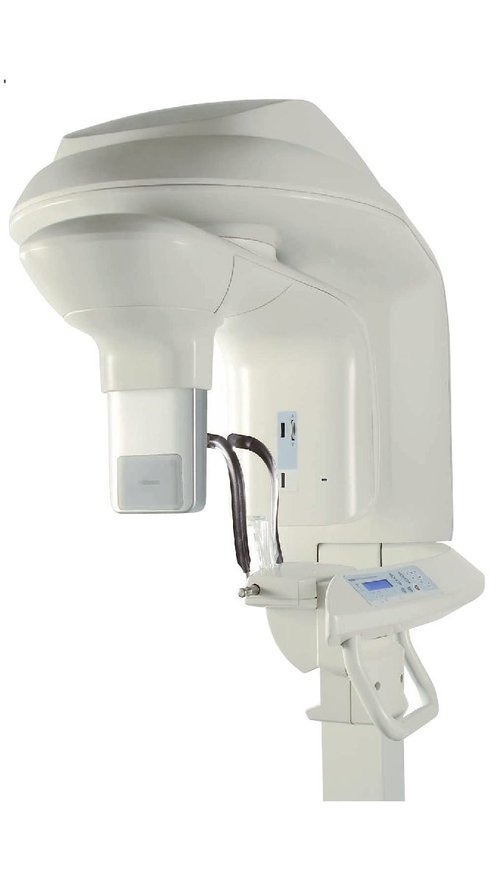 Dental Cone Beam CT
Product Description
CBCT

High performance panoramic technology
The panoramic examination is an indispensable first step for the overwhelming majority of dental treatments. It maintains its diagnostic usefulness even when combined with 3D imaging.

The Kodak 9000 system is the true high performance digital panoramic unit. It boasts the same user-friendliness that made its predecessor a success, in addition to an array of new high-end features for greater flexibility and improved efficiency. The Kodak 9000 Panoramic system can be upgraded to 3D and cephalometric at a later date if so desired.
Technical Specification
Tube voltage

60 - 90 kV (max), pulsed mode for 3D modality

Tube current

2 - 15 mA (max)

Frequency

140 kHz (max)

Tube focal spot

0.5 mm (IEC 336)

Total filtration

> 2.5 mm eq. Al

3D Modality

Technology

Digital Volumetric Tomography (DVT)

Sensor technology

CMOS sensor with optical fibre

Gray scale

16384 - 14 bits

Volume size

50 x 37 mm

Voxel size

76 x 76 x 76μm (isotropic voxel)

Reconstruction time

Depends on the PC, typically under 2 minutes with high performance PC

Panoramic Modality

Sensor technology

CCD - Optical fibre sensor

Gray scale

16384 (14 bits)

Magnification

1.27

Exposure time

Depending on program selection. From 4 sec. to 16 sec.
Standard Adult: 13.9sec Standard pediatric: 13.2sec

Programs

12 anatomical settings

Radiological exam options

Panoramic
Segmented panoramic
Maxillary sinus
LA TMJ x2
LA TMJ x4

Input voltage

230-240 V - 50/60 Hz
100-110-130V - 50/60 Hz

Cephalometric Modality

Technology

One shot

Sensor technology

CCD - Optical fibre sensor

Gray scale

16384 (14 bits)

Magnification

1.14

Exposure time

Standard: under 1 sec. User selectable range: 0.1- 3.2 sec.

Cephalometric exam options

Lateral
Oblique
Frontal (AP / PA)
Submento-vertex
Carpus

Cephalometric formats

18 x 18 cm - 18 x 24 cm - 24 x 24 cm
24 x 30 cm - 30 x 30 cm

Weight

Kodak 9000 / 9000 3D: 160 kg
Kodak 9000C/ 9000C 3D: 199 kg